I'm not sure when my interest in leaves as a canvas started, but I was collecting and pressing leaves and flowers between pieces of paper towelling long before then.  I used these dried materials for enhancing the little birch bark paintings I did.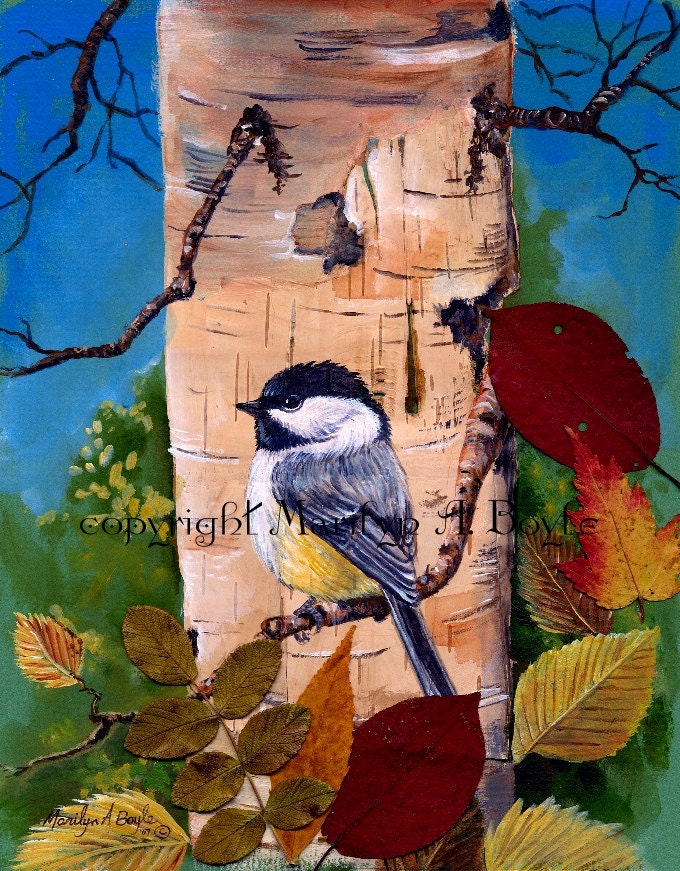 One day while taking a walk, I found, around the corner from me, large maple leaves on the ground.  On picking one up to admire the deep burgundy color, I noticed that it was a pretty thick leaf.  That was when I thought it would take paint pretty good.  I began painting birds ( mostly chickadees ) on them.  But it got me starting to paint on all kinds and sizes of leaves.  I press them first; most not too long.  Then I fasten them to a piece of mat board, choosing colors that complimented the leaf/leaves.  All my leaves are on 8 x 10, 5 x 7 or 4 x 6 pieces of mat board.  Once the leaf is behind glass, they are protected well and will last a long time without deteriorating.
I've always got my eyes open now, looking for that perfect falling leaf.