As far back as I can remember I've loved horses.  I drew and coloured whole herds of them; mares, colts, fillies and stallions that I cut out and played with.  The stallions battled one another for the chance to own the mares.  They were all colors I heard horses can be: white, black, paint, Appaloosa, buckskins, palomino ( my favorite ) and possibly combinations unheard of.  This was enacted under the kitchen table ( which was a huge oak with pedestal-type legs and ledges) or all over the chesterfield (yes, sofas were called that in those days ).  When they got a little dilapidate from the vigorous playing, I just drew and coloured more.
I'm not sure when my love for horses morphed into unicorns.  I do know that when I heard of them and their magic, I was enthralled and they became, to me, a symbol of hope and dreams and love.  They became all that was beautiful, strong, faithful and protective.  And my imagination soared.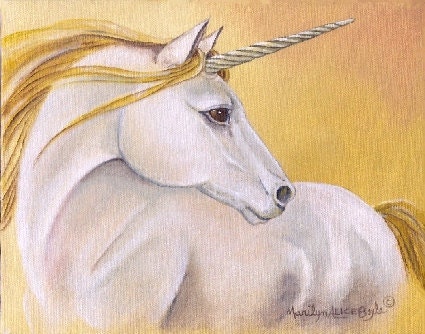 When I bought my first paints, I needed to earn money to buy more, so I started painting pet portraits.  I was good with animals so this was the best way to go.  This was during my early years of marriage.  My last child had just entered school.  I could only afford the 8 x 10 canvasboard and that was what I advertised ( mostly by word of mouth ).  I was successfull at it and eventually I had art supplies such as larger canvasboard and masonite as well as an easel and a paintbox with paints.  At that time I was using oils.
The first large canvases I painted were...you guessed it.....unicorns!  Actually unicorns, dragons, warriors....fantasy.  It allowed my art no boundaries.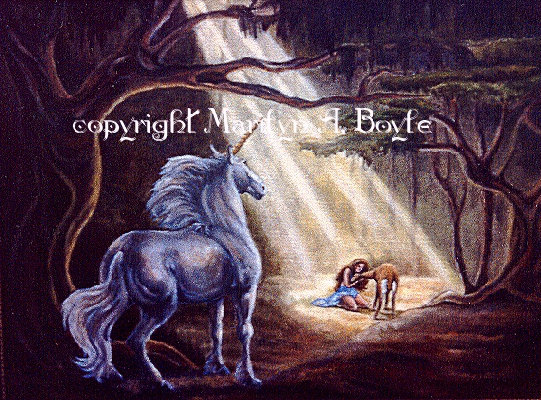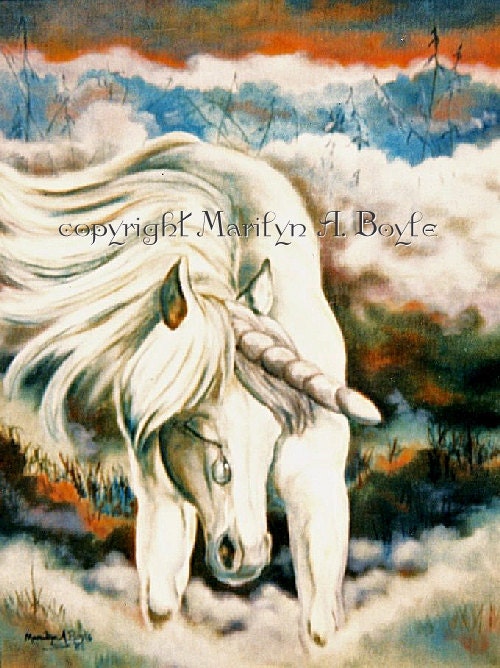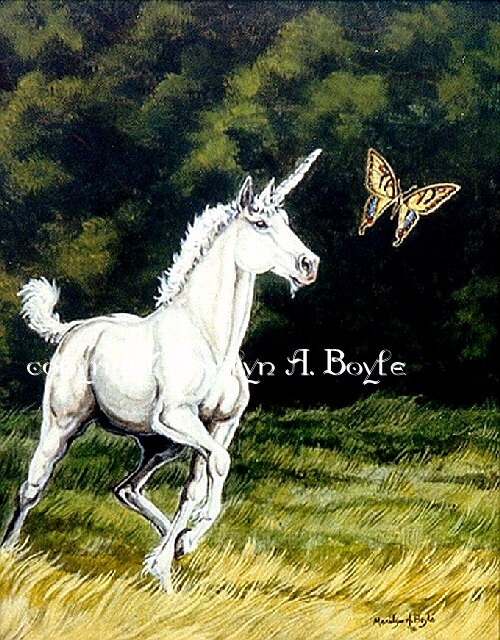 These were all in oils.
Finding that the number of people who loved fantasy here in Thunder Bay was a limited pool for sales, I turned to wildlife and met more success.  It was then that I changed to acrylics.
But my love for the unicorn never died.  I continued  painting them in every way my imagination could envision them.  I didn't want to let go of my dream that unicorns were all that was good in life.  I've done my best to keep them alive in the lives of those who need them.   Just believe.